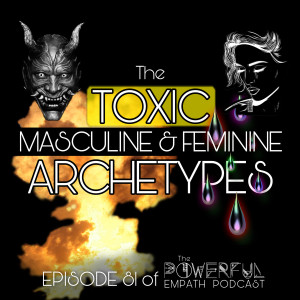 Thursday Sep 09, 2021
The Cosmic Fairytale Bonus Episode: TOXIC Masculine & Feminine Archetypes
Leaning too far into masculine or feminine energies can be toxic to us and everyone around us.  In this episode of The Powerful Empath podcast Lacy walks us through what it means to be Toxic Masculine, Toxic Feminine and the ANTIDOTE to either!  
Ascend with messages and meditation through Lotus Crown Academy and Lacy Loretta and she delivers these channeled messages to you on Mondays and Thursdays each week.  
Lacy Loretta is a 5D DRE△MWEA▽ER & Meditation Practitioner - helping you lead your human existence through powerful experiences within yourself by accessing the unified field.  
Special thanks to OMEGA Mind Maven Patron: ⱠłØ₦ⱧɆ₳Ɽ₮126
And to all Ascending Seeker Patrons!
You are welcome to become a Patron and access patron-only weekly guided mediations which align with the podcast episode messages. JUST CLICK HERE:  https://patron.podbean.com/thepowerfulempath
Other Links:
Website https://lotuscrownacademy.com
Podcast Feed https://lacyloretta.podbean.com
iTunes https://podcasts.apple.com/us/podcast/the-powerful-empath/id1441159096
For 1-1 Coaching or to provide feedback, ask questions or send in special requests: 
Email lacy@lotuscrownacademy.com
Call or text her business line: 1 (716) 267-1607